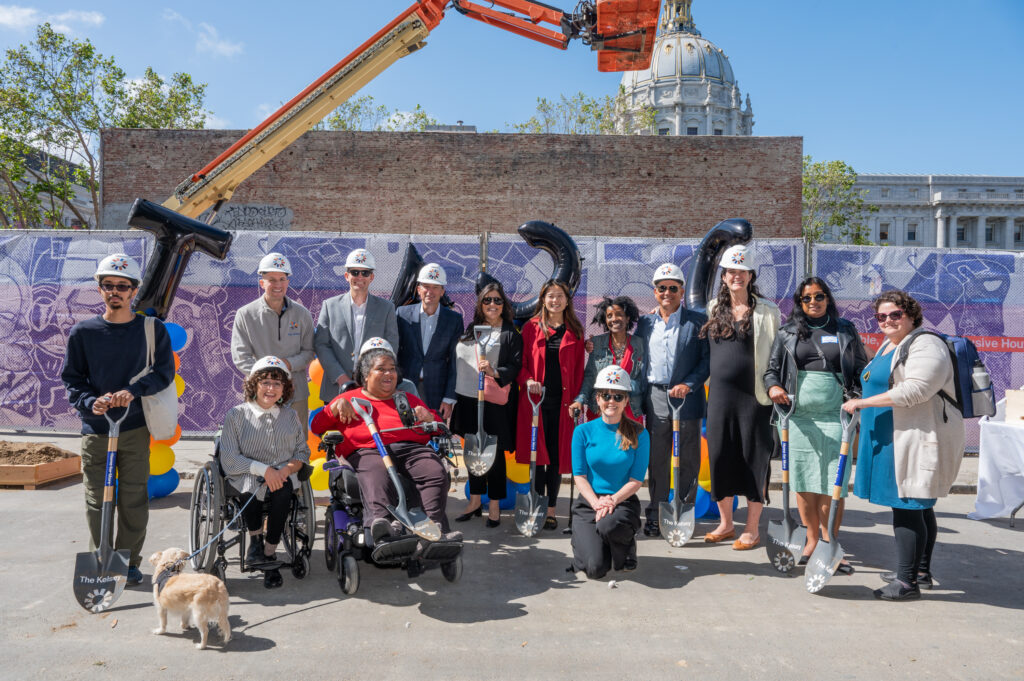 Disability-forward housing is becoming a reality in the heart of San Francisco. On June 8th, San Francisco Mayor London Breed and disability community leaders joined The Kelsey and its co-developer, Mercy Housing California, to celebrate the groundbreaking for The Kelsey Civic Center.
The development, unique in San Francisco, provides a model for inclusive, multifamily housing across the country: The Kelsey Civic Center will be affordable to people with and without disabilities making 20% to 80% of the median area income; accessible to people with a spectrum of support, mobility, sensory, and cognitive access needs; and inclusive for all residents, with a resident services program designed to support thriving, connected community life.
"This housing has been a long time coming. About 24% of Californians live with a disability—we're your neighbors, your family, your friends. And we experience the highest rates of homelessness, housing discrimination, and housing insecurity not just in the state, but across the entire country," said Elizabeth Grigsby, a board member at The Kelsey and a consumer rights advocate for the Golden Gate Regional Center. "As a disabled person, a San Franciscan, and an advocate for disability rights, I know from personal experience that The Kelsey Civic Center is going to change a lot of lives for the better. We deserve the opportunity to be part of the community, and The Kelsey is making that right a reality."
The Kelsey Civic Center is located at 240 Van Ness Avenue, a site chosen for its proximity to transit, jobs, community, arts and entertainment, and additional services. The eight-story building will include 112 studio and two-bedroom apartments, with 25% of units reserved for people with disabilities. Two full-time Inclusion Concierges™ will help residents navigate their neighborhood, engage with their city, connect to programs and activities, and build community among disabled and nondisabled residents across access needs.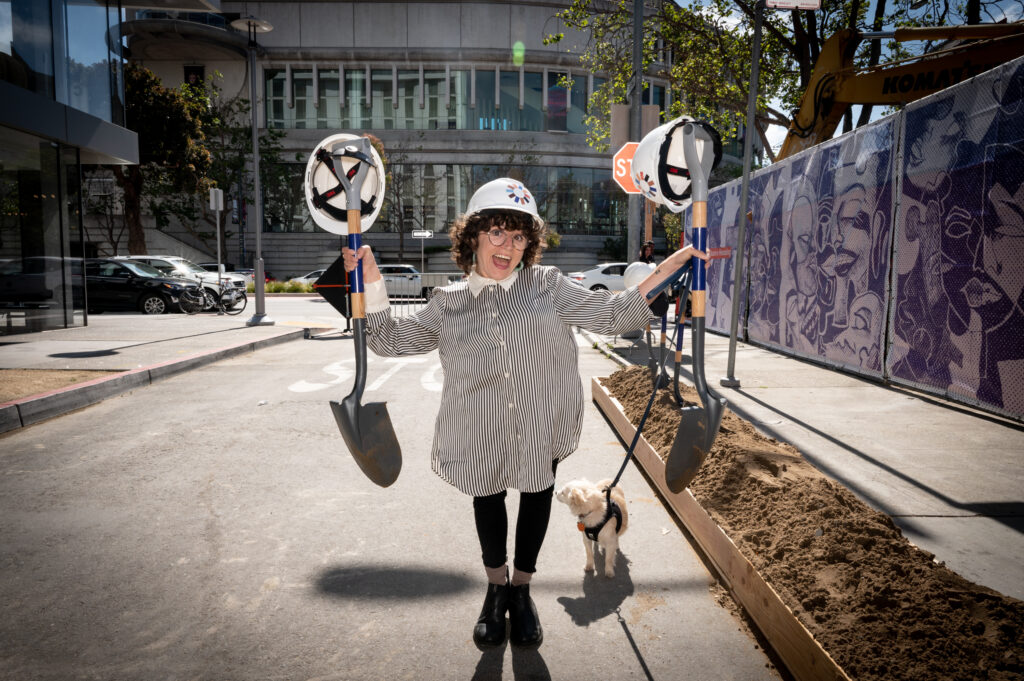 "Disability-forward features like these are among the reasons why The Harry and Jeanette Weinberg Foundation helped fund The Kelsey San Francisco Civic Center," said Amy Kleine, the foundation's senior program director. "The foundation supports developments that combine affordable quality housing with services that residents need to thrive in their homes. The Kelsey Civic Center will offer housing that fosters the well-being of people with disabilities and ensures they are fully part of the community."
The Kelsey Civic Center's ground floor will house another first: the Disability Cultural Community Center, which will serve as a gathering place for people with and without disabilities to connect and create community. Anticipated resources include a gallery, a space for pop-up disability-forward businesses, and a co-working area. The community also includes an outdoor public art installation by JD Greene, an artist at Creativity Explored, a San Francisco–based organization that supports artists with disabilities. In addition, The Kelsey Civic Center was a 2020 winning project in the C40 Reinventing Cities Competition, earning praise for its disability-forward design and sustainability features, which include a large courtyard garden and efficient units with shared community spaces that will minimize resource waste.
"With creative thinking and a commitment to designing affordable housing that works for everyone, there's no reason this kind of success can't be replicated all over the country," said Doug Shoemaker, president of affordable housing nonprofit Mercy Housing California.
The Kelsey Civic Center was designed by WRNS Studio, an architecture and planning firm specializing in high-quality sustainable design, and Santos Prescott and Associates, an architecture and urban design practice acclaimed for the spatial inventiveness and social responsibility of its work. San Francisco–based Cahill Contractors is the construction partner.
The full groundbreaking video can be viewed here.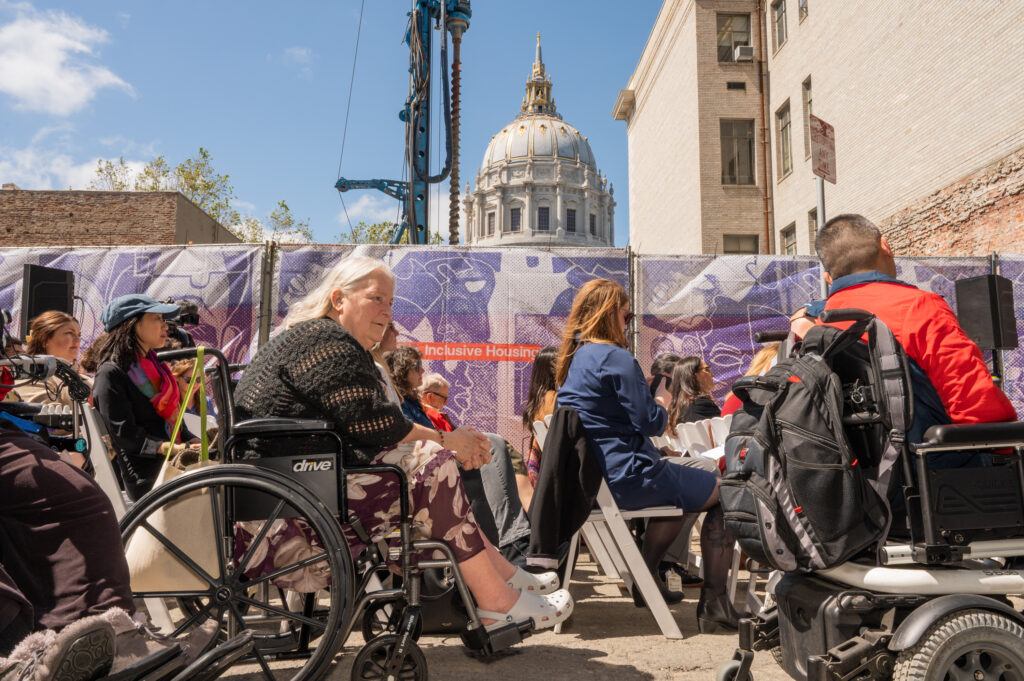 Public funders for this project include:
State of California Department of Housing and Community Development Affordable Housing and Sustainable Communities Program
State of California Department of Housing and Community Development Housing Accelerator Program
San Francisco Mayor's Office of Housing and Community Development
California Department of Developmental Services
U.S. Department of Housing and Urban Development Section 811 Program
Financing partners for this project include:
Golden Gate Regional Center
The Harry and Jeanette Weinberg Foundation
Chase
Housing Trust Silicon Valley
Many generous individuals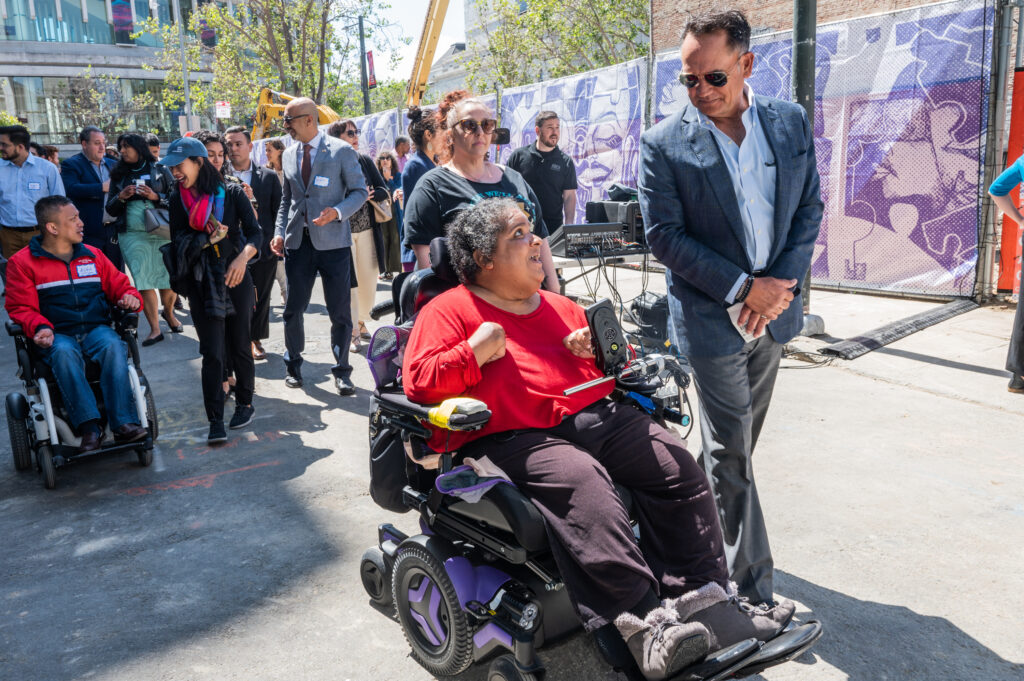 "We could not be more proud to support the development of the accessible, sustainable and inclusive Kelsey Civic Center," said James Vossoughi, executive director of community development banking for Chase. "This community with 112 homes will serve our neighbors who need it most and comes at a time when affordable housing is in limited supply in San Francisco and across the U.S. We cannot wait to see the doors open."