The Housing Design Standards for Accessibility and Inclusion equips designers, builders, and developers with guidelines and frameworks for disability-forward housing creation. It highlights cross-disability accessibility and design decisions that are anchored in inclusion. Each month we feature one of our partners and the Element they're most excited about.
Name / Affiliation: Kathryn  / Resident & Soulful Cafe Staff / Main Street (Rockville, MD) 
The Kelsey is honored to highlight a resident from an Inclusive Houser Network organization, Main Street (Rockville, Maryland). Our featured resident is named Kathryn and is also on staff at their on-site eatery called The Soulfull Cafe. Kathryn's favorite element is Kitchen Layout Plans which allows her space to maneuver freely and have up to two people comfortably cook at once. Kathryn talks about how the enhanced accessibility of her kitchen layout gives her the ability to live independently.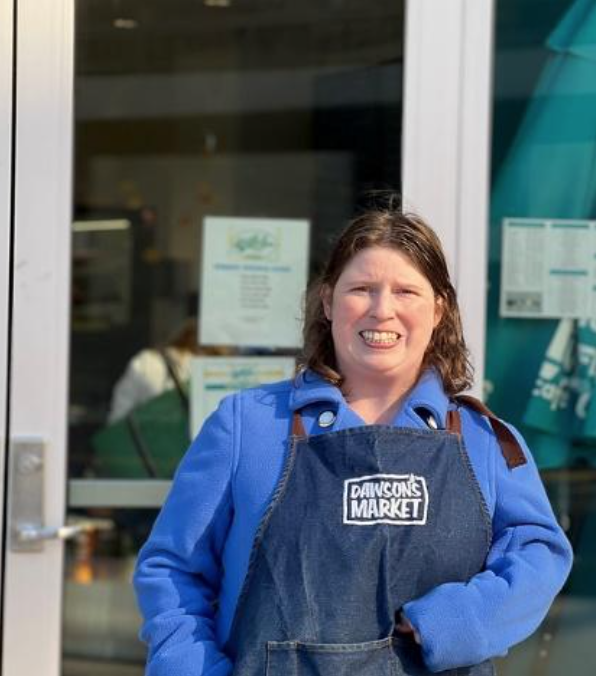 Name of Element: Kitchen Layout Plans (5.0)
Level 1 – Use L-shaped or straight-run kitchens rather than galley or U-shaped kitchens.
There is more flexibility for positioning a dining table and using that table as an additional wheelchair- accessible prep area
Seated prep is better for people with difficulty standing for long periods
Two or more people can use the kitchen more easily at once
Two people with mobility devices can navigate around each other
Dishwasher and range doors, when open, do not prevent entrance/exit as they do with galley and U-shaped layouts
Level 2 – Galley or U-shaped kitchens provide minimum 60 inches between cabinet faces or cabinets and projecting appliance faces.
Allows better turning space
Allows use by more than one person – including one in a mobility device
Design Category: Dwelling Units
Impact Area(s): Mobility and Height, Support Needs
Additional Benefit(s): Safety, Beauty and Better Design
Why is this element personally important to you? 
This element is important because the kitchen island is great for prepping food and cutting up vegetables. It's easy for me to cut up fruit and vegetables. I move it around[which is why I need a large space.
How did this accessibility element change for the better, the overall living experience you had before?
The kitchen island is easy to move around. This is the first time I have had an island which helps with my food prep.
What recommendations would you make to someone designing a disability-forward housing project (related to design standards)
I would recommend making the project accessible to the needs of people with disabilities. For example, making sure that residents can reach the counter tops, access the shower and access everything they need in the apartment to be independent.