May's Affordable Housing Month invites us to think about the importance of housing access, affordability, and inclusion for all people who need it. On May 19, 2020, The Kelsey, Housing California, and Disability Rights California co-hosted the first-ever Affordable Housing & Disability Twitter Chat. The chat elevated housing issues impacting people with disabilities and shared ideas and resources that can move us closer to affordable housing access for all. Continue to follow and contribute to the conversation with the hashtag #HousingAccess4All and check out highlighted posts; follow on Twitter: @TheKelseyMore @housingca @DisabilityCA. Moving forward, here are seven lessons from the chat that can support our critical work.
LESSON 1
Housing is intersectional and multidimensional. People with disabilities are disproportionately impacted by ableism, racism, and poverty ( to name a few) which directly influence the higher rates of inaccessible housing and services, rent burden, displacement, eviction, institutionalization, segregation, and homelessness.
LESSON 2
Affordable housing and Disability advocates must listen and learn from one another because common myths about both issue areas can create unnecessary barriers towards collaborative, mutually beneficial solutions.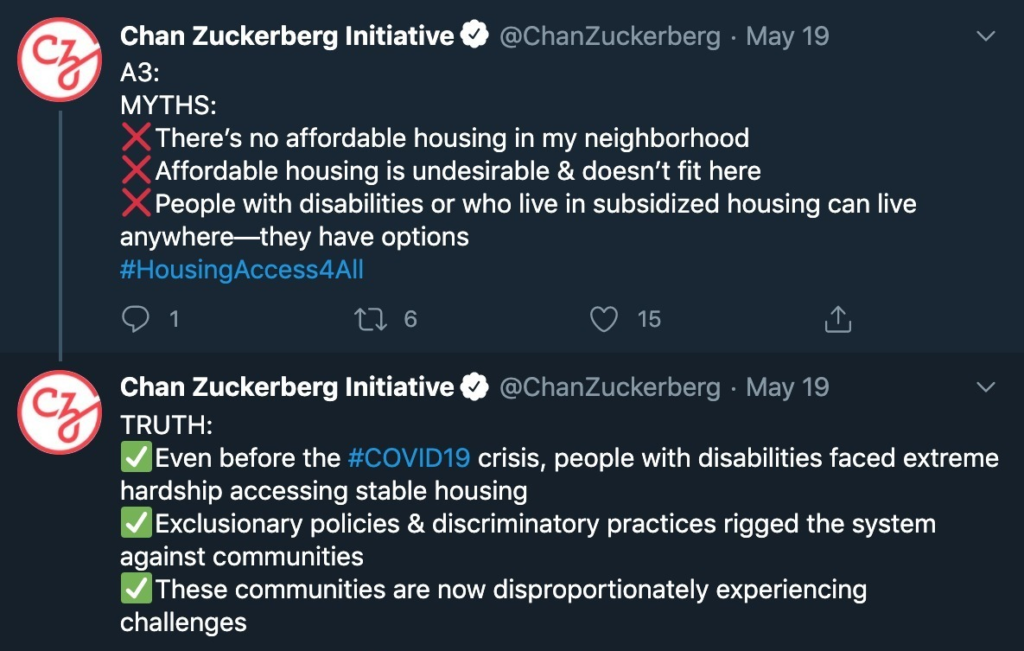 LESSON 3
The best solutions and innovations are created when we work across differences and center the voices and leadership of those most impacted by the housing crisis.
LESSON 4
To effectively meet the housing needs of people with disabilities, there must be affordable, accessible, and community based integrated housing options AND access to home and community-based services (HCBS).

LESSON 5
With more investment and inclusion, existing federal and statewide programs can better solve the acute impact of the housing crisis on people with disabilities. Generally, affordable housing programs can be more explicitly disability-inclusive and there can be greater investment in programs that are explicitly for Disability communities' housing needs.

LESSON 6
There are existing resources and tools that advocates can use and share at the intersection of disability rights, housing, and COVID19.
LESSON 7
Disability rights and affordable housing advocates are stronger together, and cultivating cross-movement partnerships has to be intentional. We didn't have to do this twitter chat but we did; we made the intentional choice to prioritize this collaboration. Through the preparation and live event, staff from all three organizations listened to one another, asked questions, and worked together towards a common goal. The Kelsey, Housing California, and Disability Rights California are grateful and excited for partnerships across fields of housing and disability rights that will continue to grow.