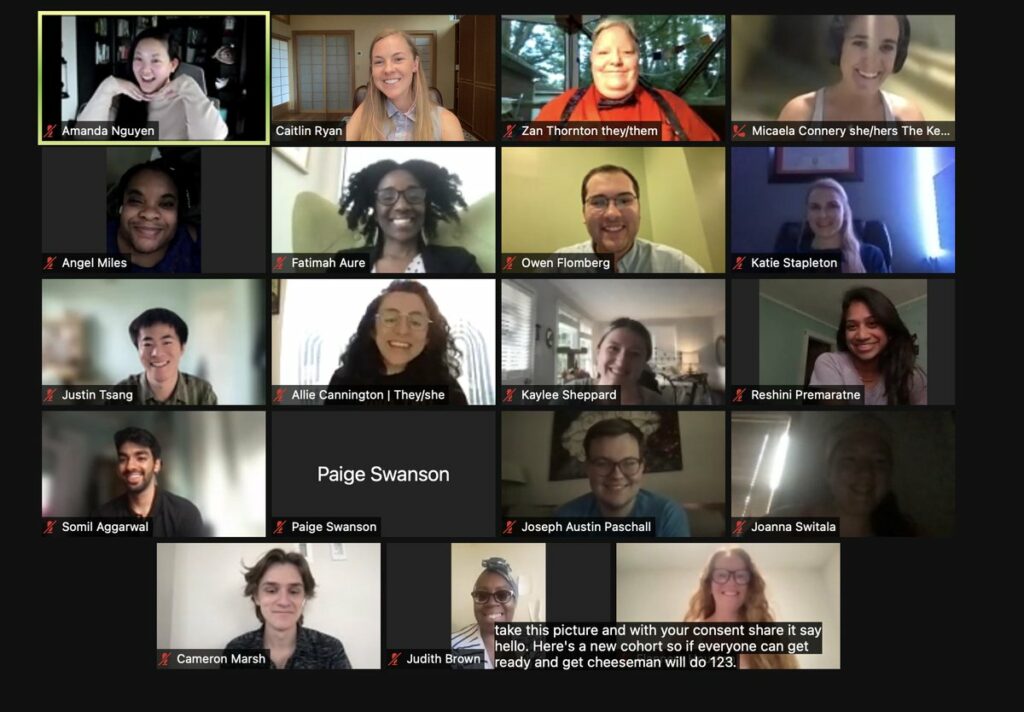 This month The Kelsey joins a cohort of three teams who are leading national policy initiatives. We were accepted into the 2021 summer cohort of the Rise Justice Labs accelerator program, running from August to November 2021. This 12-week program is designed to support us in passing federal legislation around disability-forward housing.
Rise Justice Labs has been designed to guide participating changemakers through the process of researching and writing their first law, which culminates in Demo(cracy) Day–their version of a tech accelerator demo day. This process will help participants understand the fundamentals required in how to pass a law, draft a bill, meet legislators, and launch a campaign to pitch to reporters and the greater community.
Since the program's inception, they have successfully passed 42 laws, trained 200+ organizers in their community, and impacted 89,000,000+ people by their laws, making Rise Justice Labs the most successful Legislative Reform Movement in U.S. History.
Our team includes three staff members from The Kelsey: Micaela Connery, CEO; Allie Cannington, Manager of Advocacy and Organizing; and Fatimah Aure, Director of Field and Capacity Building; and four key community partners:
Dr. Angel Miles | She/Her/Hers | Chicago, IL
Angel received her doctorate in women's studies at the University of Maryland College Park. After completing her postdoctoral fellowship in the College of Applied Health Sciences at the University of Illinois at Chicago, she became Healthcare/Home and Community Based Services Policy Analyst at Access Living. She is responsible for monitoring disability rights developments in healthcare and home and community-based services and facilitating systems advocacy efforts through an intersectional lens.
Cathleen O'Brien | She/Her/Hers | Chicago, IL
Cathleen is Access Living's Housing Community Organizer and its staff liaison for the Disability Rights Action Coalition for Housing (DRACH). She started at Access Living in 2015 as an AmeriCorps VISTA member and is grateful for the opportunity to build power for housing and disability justice in Chicago.
Justin Tsang | Los Angeles, CA
Justin Tsang is a recent graduate from UC Berkeley and recently finished his internship through the U.S Department of Housing and Urban Development (HUD) in the Office of Multifamily Housing. Justin has been involved in various settings involving disability advocacy, including the American Association for People with Disabilities (AAPD), The Kelsey, and the California Foundation for Independent Living Centers (CFILC). Justin is actively engaged in diverse communities, including serving as Director of Research through the youth-led Asian Americans with Disabilities Initiative (AADI). Justin is passionate about housing policy, universal design, community development, healthcare equity, and community services.
Suzanne Zan Thornton | (they/them/theirs) | Decatur, GA
Suzanne Zan Thornton: Elder LGBTQIA2S+ multi-disabled peaceful veteran and activist using non-violent methods from India and USA (Gandhi Uni., FOR, The King Center). They got the 2021 D-30 diversability award for providing access and rides to over 500+ GA voters with disabilities including IDD: Intellectual/Developmental Disabilities, Deaf /DeafBlind/ Blind/Low Vision, and 7 Native Tribes! We've 2 great-grands, 4 grandkids: Autistic and ADHD, and 4 grown: Deaf/Mental Illness/Addictions. Married/partnered 28 yrs. :Elisabeth. Education: BSW, AAS Interpreting for Deaf and 31 yrs. sober and life student/activist. Access is not just a ramp, but an attitude of compassion, intersectionality, diversity, and Good Trouble.
Alongside the Rise Justice Lab's network of professional lobbyists, attorneys, lawmakers, funders, celebrity supporters, and media contacts, our team will develop a bill that will strengthen federal infrastructure to support the production of housing for people with disabilities who use supportive services and who would otherwise live in hospitals, institutions, congregate settings, or remain unstably housed. Our work in the program is guided by Rise Justice Lab's founder, Amanda Nguyen's Blueprint for Social Change. The details of the specific bill will be defined in partnership with the project team but will support the affordable, accessible, and integrated housing mandate of the Olmstead Supreme Court decision and the housing needs of people with disabilities using Home and Community-based Services (HCBS). To learn more about this policy initiative and our work with Rise Justice Labs, you can contact us here!