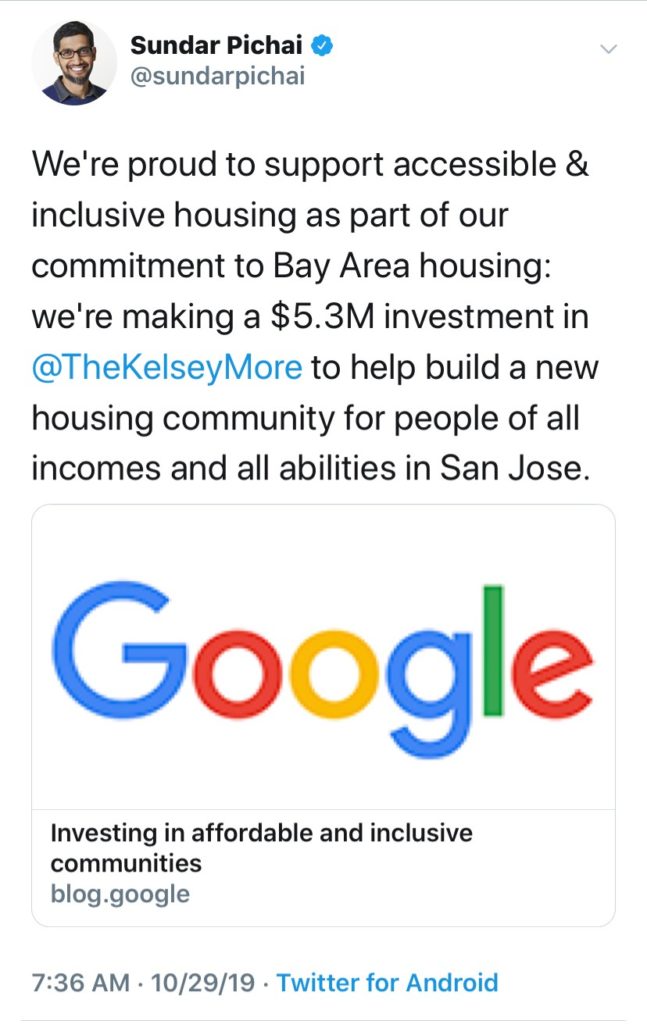 Today, we're excited to announce a $5.3 million loan from Google for our first project, The Kelsey Ayer Station in San Jose. We're proud to say that The Kelsey is "the first specific project that the tech giant has backed since announcing a $250 million fund dedicated to addressing the San Francisco Bay Area's affordable housing shortage."
"The Kelsey's first development in San Jose will be a pioneering, inclusive housing community. Google is very excited to be a part of The Kelsey and we're looking forward to more opportunities to help with the creation and preservation of affordable housing." Alexa Arena, Google San Jose Real Estate Development Director
Google's funding will support critical pre-development costs like purchasing and entitling our land, and completing initial design work. The investment allows us to stick to our ambitious pace: residents will move into the space in four years, a timeline rarely seen in the housing industry. The Kelsey Ayer Station will demonstrate what's possible when people, funding, and cities come together with a shared commitment to inclusion. We hope Google's support will attract other funders to step up to make inclusive community a reality with us.
Read the full story in our guest post on Google's Blog, The Keyword.
Read more about this story on Bloomberg, here.