Time & Location
Jun 25, 2020, 4:00 PM–5:00 PM
Zoom Meeting Room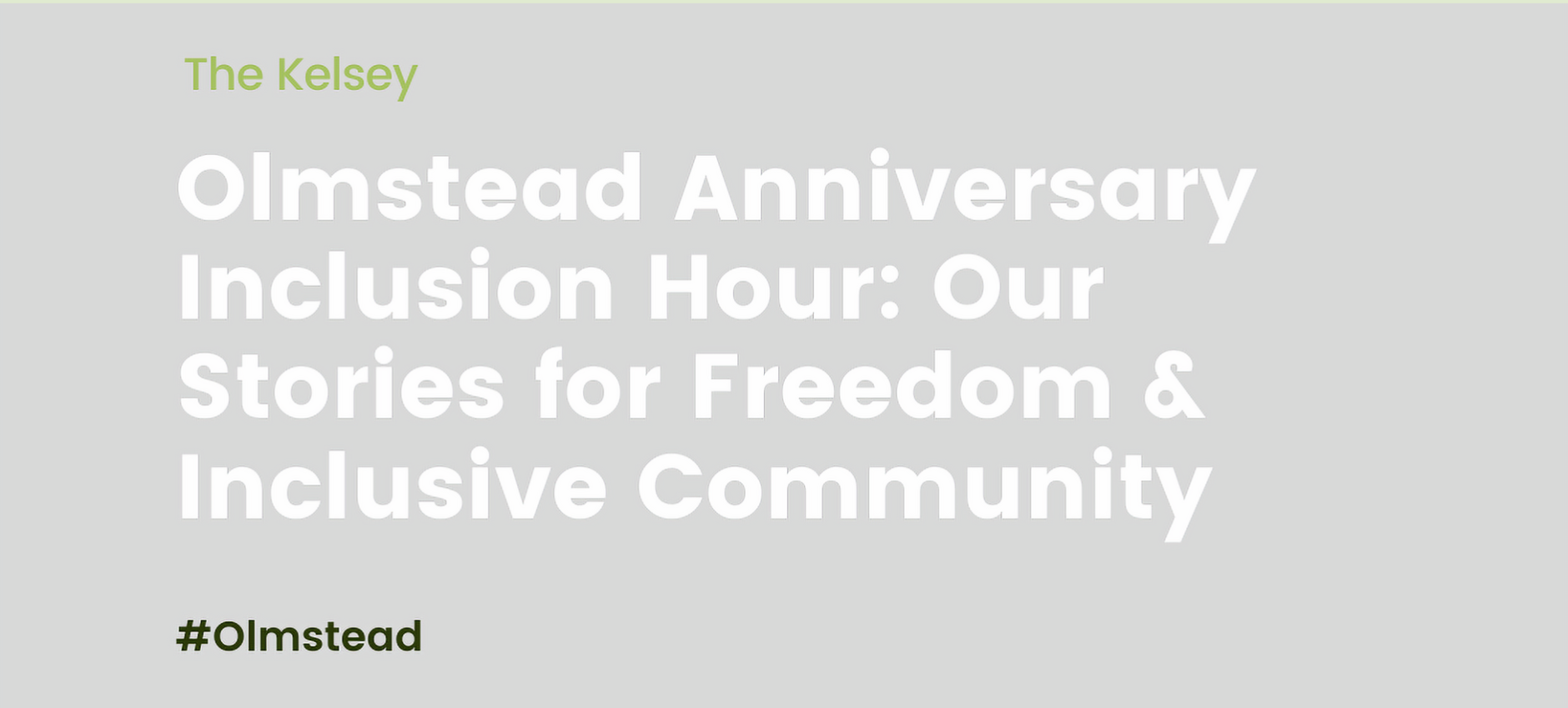 About The Event
Every June, we honor the anniversary of the landmark Supreme Court decision of Olmstead v L.C., or more commonly known as Olmstead; which forever changed the trajectory for Disabled Americans. It declared that under the Americans with Disabilities Act (ADA), people with disabilities cannot be unnecessarily segregated and must receive services in the most integrated setting possible. This month marks 21 years later, and there have been great strides in access to community-based integrated, inclusive housing and services, yet there is still tremendous work to be done to ensure that inclusive communities are realized. Olmstead would not have been possible without the fierce, unapologetic leadership of Lois Curtis and Elaine Wilson who decided to speak, tell their stories, and defend their rights to the community when they were forced to live in institutions.  Our Inclusion Hour this month honors Olmstead and stories that change communities and policies.
This interactive event will center on stories for freedom, inclusive community, and social change. We'll start with disability justice activist and writer, Lateef Mcleod, sharing a reading from his newest book, Whispers of Krip Love Shouts of Krip Revolution. Then, we'll break out into smaller groups and share our own reflections on what home, freedom, and inclusive community mean for each of us.  Just as Lois and Elaine's stories made an impact, we'll close with a conversation with news editor and disability reporter, Wendy Lu, on the power of stories about people with disabilities in media and politics and how they can be used to drive progress.
Bring a story — a piece of writing, an article, an image or photo, poem, a quote, or your own words — that demonstrate the importance of community and freedom or your own experiences connected to community and freedom.
The Kelsey accelerates and advocates for housing where people with and without disabilities, of all incomes and backgrounds, can live and thrive together. Our approach is a joint direct impact strategy in housing development coupled with broader work in advocacy, community organizing, and field-building. We have 240+ homes in their pipeline with developments in San Jose and San Francisco. For more information, visit www.thekelsey.org.
As we develop our first communities in San Jose and San Francisco, we'll be hosting free local and virtual Inclusion Hours: housing and disability advocacy, arts, and recreation events and programs for people to build community and connect.
Accessibility Information
All are welcome! This will be hosted online and will have live captioning. To request additional accommodations please email eric@thekelsey.org by Monday, June 22nd by 5PM PST.