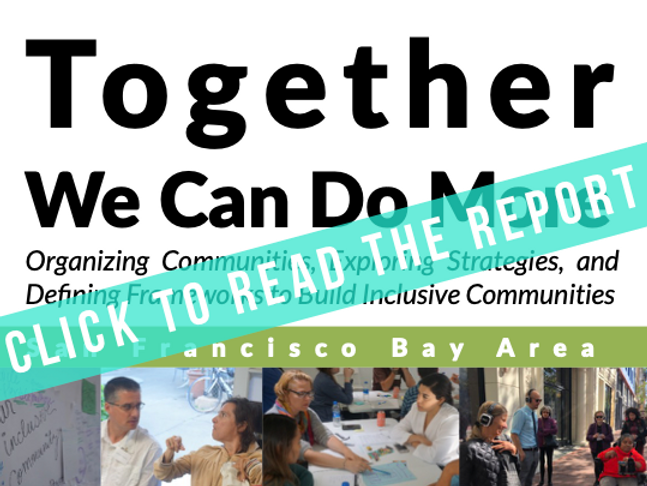 Less than 12% of adults with intellectual and developmental disabilities (I/DD) who receive long-term supports and services own or rent their own home. Across California and the country, increasing numbers of individuals with disabilities live at home with aging parents and guardians with no transition plan in place. If individuals with disabilities want to live outside of the family home, often their only option is to live in institutional settings. Despite repeated demands for community-based housing options from advocates with disabilities and their families and federal policy that mandates such housing options, there is is a clear lack of funding, strategies, and operating models to address the housing needs of adults with I/DD.
To think through the factors driving the disability housing challenge and what new solutions could look like, The Kelsey embarked on a nine month organizing and predevelopment process. We convened 300+ cross sector stakeholders from around the Bay Area for our Together We Can Do More Initiative. Stakeholders participated in a three part workshop series that defined the problems driving disability housing shortages, identified actionable interventions, and designed what new solutions could and should look like. Alongside meetings and workshops, we interviewed key leaders across the disability, housing, finance, philanthropy, policy, and community development sectors to learn from their experience and expertise. We also researched existing housing models in the Bay Area and beyond.
We wanted to write this report to educate readers on the factors driving the shortage of affordable, accessible, and inclusive housing and explore solutions that can be used to address this crisis. We focus on identifying mechanisms that promote disability inclusive housing and sharing innovative, scalable, and sustainable ideas that can be applied in all types of communities.
Here at The Kelsey, we imagine a world where all housing is physically accessible, has a culture of support and connection, and is affordable to people with a range of incomes. The goal of disability inclusive housing developers should be to put ourselves out of business—this happens by creating financing tools, operating strategies, partnership models, and best-practices that all housing advocates, funders, developers, and operators can utilize and scale to create homes.
We believe it's possible. With new housing models, innovative financing tools, and stronger advocacy efforts, we can build a future where all communities are inclusive and all people thrive regardless of ability or background. The need is clear and the resources are available. Leaders across all sectors can move the needle on this issue in measurable and impactful ways by elevating the issue, committing resources, leveraging organization expertise, seeding innovation, testing new approaches and collaborating to share what works. Together we can do more.
Click here to read the report and download your copy. Reach out to eric@thekelsey.org with any questions.